Fitzpatrick Will Battle His History
November 7th, 2018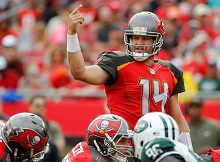 The Bucs must finish this season on a 6-2 run to have any shot at the playoffs.
So has starting QB Ryan Fitzpatrick ever gone on a 6-2 run?
Back in 2015, Fitzpatrick's good season turned great when, yes, he went on a late-season, 6-2 run quarterbacking the Jets. That wrapped up the week before he tossed three interceptions in the season finale and the Jets lost to Buffalo by five points, and their playoff hopes.
But here's the down side, as it relates to fans of the 2018 Bucs. Five of those six victories by Fitzpatrick came against teams with losing records. The Bucs likely will play four teams with winning records in their remaining eight games.
Those 2015 New York Jets also had the No. 4-ranked defense in the NFL and Fitzpatrick was a beneficiary of their strong play. In fact, during that 6-2 run, Fitz and his offense only scored more than 30 points once. He also had a 1,000-yard rusher in his backfield.
The Bucs have one of the worst defenses in history and a struggling rushing attack.
Joe's not taking anything away from Fitzpatrick, just illustrating how he'll have to have the absolute run of his life to make the Bucs relevant in late December.
Dirk Koetter, Fitzpatrick and the Bucs need an absolute football miracle.