Eli 2019?
November 14th, 2018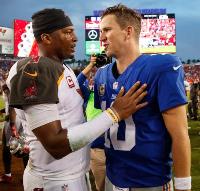 The incredible has become credible.
Noted football author and well-connected NFL columnist Mike Freeman stumbled upon interesting chatter in recent days regarding the Bucs.
Typing for his 10-point stance column at BleacherReport.com, Freeman noted that several NFL front office told him that the Bucs seem to be a great fit for Eli Manning next season.
Few in the league believe he'll remain in New York. Much of the early speculation has him ticketed for either Denver or Jacksonville.

But another intriguing team was brought up to me this week: Tampa Bay.

Again, this is all guesswork from team officials across the league, but several front-office sources think the Bucs would welcome Manning to make some sense of their messy QB situation.

If that did happen (and it's a gigantic "if"), that would mean Jameis Winston would be gone. And since he's currently being beaten out by Ryan Fitzpatrick, that could be the case anyway.
Joe, who knows Freeman, finds his phrasing very interesting. It sounds like the Bucs being mentioned surprised Freeman and he was even more surprised Tampa Bay came up multiple times.
Manning turns 38 in January. He hasn't had a great year, but he's also been behind one of the worst offensive lines in football this season and last.
He's one of the most durable quarterbacks in the history of the game, and his 8-4 record in the playoffs is extraordinary. Manning's career also has been marked by a lot of inconsistency.
After the mess of this season, Joe wouldn't be surprised at all if Team Glazer would embrace Manning for the stability he would bring to the position in 2019 — as they await a quarterback who can bring more ability to the position.
Of course, Manning in Tampa would mean the end of the Jameis Winston era, and Joe can't sign off on that with seven games to play. Certainly not for Manning.