Effort Scolded
November 5th, 2018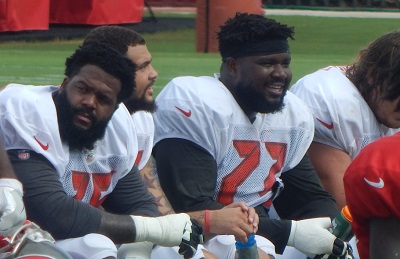 You know it's bad when the Buccaneers' effort is being questioned — by a guy who collects a check from the organization.
There he was on the 97.9 FM postgame show last night, former Bucs tight end John Gilmore let it hang out again about the Tampa Bay offensive line.
If you remember, Gilmore, a Buccaneers Radio Network analyst, called the right side of the Buccaneers offensive line a "hot mess" last week.
Yesterday he was lamenting about O-linemen getting turned around "180" and "360" versus the Panthers. The line is soft right now, Gilmore said, and it's all about "effort and physicality."
Effort and physicality. Ugh.
Joe has re-watched every Bucs-Panthers offensive snap with a focus on the offensive line. Donovan Smith not playing to the whistle consistently is a common theme — and that's always about effort or conditioning — in most games.  Two sacks yesterday clearly were on him.
Caleb Benenoch at right guard does his share of good things, but he gets beaten badly every week and just isn't there yet.