A Clear Sign Of Dysfunction
November 5th, 2018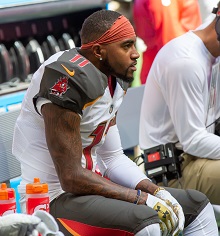 Can anyone of sound mind explain to Joe why DeSean Jackson hasn't returned a punt in three consecutive games?
He is the best punt returner on the roster.
You want a clear sign of Bucs dysfunction, other than the obvious, there's a glaring one right there.
Last month, Joe talked to special teams coach Nate Kaczor, who shared that there's extra juice on his return team when Jackson trots out to field a punt. And the juice continues through the play.
Joe also has talked to Adam Humphries about Jackson returning punts. And Humphries, who is the Bucs' punt returner, is quick to acknowledge that Jackson's explosiveness and speed is a marvel and there's no doubt he's a bit more dangerous than Humphries when it comes to the craft.
Up in Tennessee, in August, Jackson told Joe he "100 percent" wants to return punts. And the Bucs gave him the green light this season.
Koetter subsequently called Jackson one of the most dangerous returners in the NFL and said the Bucs would pick their spots to use him. Jackson had one return in each of the first five games and we all saw the incredible touchdown return against the Steelers, which was called back for an Isaiah Johnson penalty.
And now Jackson has been shut down on punt returns — or has shut it down himself — for three consecutive games.
Joe can't find a good reason other than there's serious dysfunction going on.
Where is Jackson on punts? Bucs fans are told that coaches play the guys who give the Bucs the best chance to win. Heck, this is the same coaching staff faking punts to generate a spark.
For those wondering, Humphries' 6.5-yards-per-return average ranks 17th in the NFL among punt returners with eight or more returns.