"Can't Pull The Trigger"
November 13th, 2018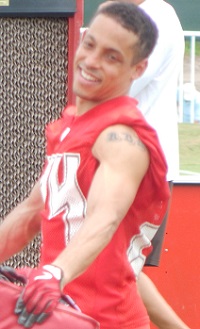 It's hard to believe four-time Pro Bowler Brent Grimes has three passes defensed and zero interceptions in seven starts this season.
That's like Joe going to a barbecue and consuming three ribs and no beer. It just doesn't happen.
Yet here we are. Grimes is the Buccaneers' best cornerback but isn't performing anywhere near his high standard.
Some have questioned his effort. Long time Bucs beat writer Rick Stroud joined that club referring to Grimes on a podcast last week a barely willing tackler in the run defense.
Former Bucs and Patriots cornerback Ricky Reynolds, who played 10 seasons and had 23 career interceptions, sees Grimes as a player fighting hard but losing to Father Time.
Reynolds spoke about Grimes this evening on 1040 AM with multimedia guru Rock Riley, whose afternoon show is the best in town. He sees 35-year-old Grimes as a player showing he has the knowledge and the instincts but "can't pull the trigger" physically any longer to make plays the way he once did.
That can lead to a lack of confidence, Reynolds said, and an eventual fear of getting hurt in certain situations.
Reynolds is a reasoned and classy guy and is part of the FOX-13 pregame show. He's a regular at Bucs games, so he's not some disconnected ex-player with an uninformed take.
Joe going positive here. Perhaps Grimes can bounce back through the final seven games. He's still a freakish and prideful athlete, and Joe has no doubt he wants to finish strong.
Grimes may not end being worth the $8 million or so the Bucs will pay him this season, but he's certainly been worthwhile and valuable signing in his three seasons.