Apparent Setback For Vinny Curry
November 8th, 2018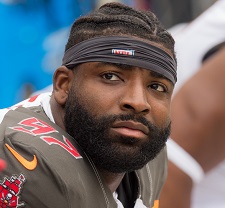 Disturbing news on the Buccaneers' injury report today.
A key member of the defense with the seventh-lowest sack total in the NFL seems to be ailing after his return to the lineup.
Defensive end Vinny Curry was back in the starting lineup Sunday against the Panthers after sitting out two games with an ankle injury. It was his first missed game(s) since 2013, and Curry told Joe he was pleased he could get back in just three weeks.
Well, Curry missed his second consecutive day of practice today with what officially is listed as an ankle injury. It's a bad sign. Typically, if a veteran player is getting a healing day off (Wednesday), then he'll be back "limited" on Thursday and then "full participation" on Friday.
Joe's hoping Curry can suit up Sunday, but Joe wouldn't bet on it. Rookies M.J. Stewart (foot) and Ronald Jones (hamstring) did not practice this week or last.
A list of Bucs have been "limited" this week, which is common in midseason. Gerald McCoy (calf) is no longer on the injury list. So Joe expects a strong game from McCoy on Sunday, given the Redskins makeshift offensive line.