A Lesson In Development
November 4th, 2018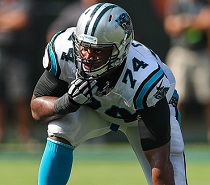 Given the Buccaneers' quarterback situation, it was ironic when offensive coordinator Todd Monken emphasized Thursday that struggling 24-year-old right guard Caleb Benenoch wouldn't improve on the bench.
Anyway, Monken's take has a lot of meaning today given who the Panthers are starting at left tackle.
His name is Chris Clark, and he's been the surprise toast of the Carolinas this season.
The Panthers have allowed just 10 sacks this season and they feature a punishing running game, despite only one offensive line starter in the position he was in when training camp began. Clark, 33, was signed off the street in September after serious knee injuries to Matt Kalil and Daryl Williams.
Clark began his NFL career as an undrafted free agent with the Bucs in 2008. Chucky and company cut him after training camp and he bounced to the Vikings' practice squad. Two years later, he was a member of the Broncos and finally got his first NFL action.
The next season, 2011, Clark got his first start and two years later he was the left tackle John Elway entrusted to protect Peyton Manning as Denver marched to the Super Bowl.
No, Joe's not saying the Bucs should have kept Clark 10 years ago, only that Clark's career illustrates how many players, such as Benenoch, need a chance to learn on the job.
Monken noted that Benenoch is really more of a tackle learning guard, which jibes with what Benenoch told Joe over a year ago. At the time, Benenoch scoffed when Joe asked him about playing guard. Remember, Benenoch started at right tackle through the final month of last season.
There's another lesson at offensive line today. And that's the cold reminder that the NFL is a no-excuses league. Somehow, the Panthers have thrived with a makeshift O-line.
Injuries are a factor for nearly every team. It's always about how you deal with them.
---
Yes!! It's a Bucs-Panthers preview on TAMPA TWO, the hot new all-Bucs show with Derrick Brooks and The Sage of Tampa Bay sports, Ira Kaufman, presented by Caldeco Air Conditioning & Heating. TAMPA TWO is a joint project of The Identity Tampa Bay and JoeBucsFan.com.