4-7 Record Doesn't Match
November 26th, 2018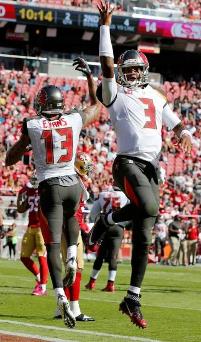 Among the 10 teams that have scored the most points this season in the National Football League, every single one has a winning record except one.
That's right. Welcome to the freak show known as your Tampa Bay Buccaneers.
With scant help from their defense, the Bucs are averaging 26.7 points per game. The eight teams averaging more all have more wins than losses. The team right behind them, the Panthers checks in with a 6-5 record and 26.1 points per game. Like the Bucs until two weeks ago, the Panthers would have more if their kicking game wasn't falling apart.
This is a very strange Bucs team, one featuring the best offense in franchise history. If the scoring continues and a commensurate share of winning appears, it will be interesting to see how Team Glazer approaches 2019.
No, Joe doesn't think Dirk Koetter will survive, but a thriving offense might have ownership very selective in how it approaches the next crew of decision-makers at One Buc Palace.