Todd Monken Talks Self-Scouting, Run Game
October 11th, 2018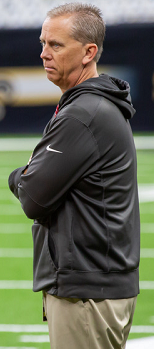 So after all that bye-week time to dissect the Buccaneers offense, what did offensive coordinator come away with?
Joe asked Todd Monken just that this morning at One Buc Palace.
He concluded there are two big improvement themes: running the football and protecting the football, with an honorable mention going to better scheming and not coughing up the rock.
JoeBucsFan.com: Coach, after all that self-scouting through the bye, what really stood out to you about the offense.

Todd Monken: Gotta run the ball more and be better at it. I mean, that's probably as much as anything. We're capable of being explosive, but obviously, we can't turn the ball over. You're going have to have so many more explosives to make up for those turnovers. So those were probably the two biggest things. And once we got in the red zone, how do we do it better. Some of it is scheme and some of it is, 'Hey, when we get those opportunities, we gotta take advantage of it and not turn it over.'
On a different question, Monken noted that play-action has to be a bigger part of the Bucs offense and the running game is critical to stifle defenses, "so they just can't tee off."
That last sentence is exactly why Joe is confident the Bucs will have a very renewed focus on the run game Sunday in Atlanta. They want to keep Jameis upright and allow him to work within a balanced offense, at least in his first start back.
And there's also the matter of the Falcons allowing 4.9 yards per carry this season. This certainly is the week to get the run game healthy.