What They're Saying In Cincinnati
October 26th, 2018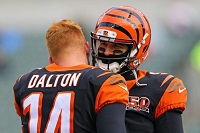 Yes, Joe smells a Buccaneers victory in chilly and likely rainy Cincinnati.
In fact, Joe (both of them!) predicted just that in yesterday's Ira Kaufman Podcast. But there's a different vibe in southwestern Ohio.
In the video below, you'll hear the Cincinnati.com beat writers talk about how the Bengals (4-3) are completely focused on getting the win Sunday for a variety of reasons. And these guys smell victory, despite the Bengals' injuries.
First, their bye is next week and the team is hungry to head out on a high note and break their two-game losing streak. Second, teams that start 5-3 make the playoffs 63 percent of the time. Apparently, the Bengals' defensive coordinator has been pounding that stat to the team this week, versus the 33 percent playoff appearance rate for 4-4 teams.
Enjoy the video! And yeah, even after watching it, Joe thinks the Bucs should be able to use all their weapons to outscore the Bengals.