"There's A Lot Of Things On That Tape, Y'all, That Just Aren't Adding Up"
October 6th, 2018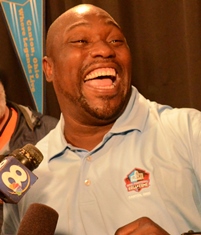 No. 99 was in disbelief while sitting in the stands of Soldier Field on Sunday.
His Bucs, as Warren Sapp calls them, "laid down."
Sapp weighed in a bit on his Route 99 podcast this week, though he acknowledged that he has more to say about the Bucs that he'll get to another time.
The Bucs Hall of Famer said the defense is coming loose at the seams and the Bears scored so much in the first half that he learned the Bears fight song that he didn't even know existed.
How Bears pass catchers were so wide open, Sapp said, is what baffled him. Afterwards, he dove into the film and saw troubling safety play and was in disbelief that Vita Vea was playing in Gerald McCoy's position with McCoy alongside him.
"My man Vita played. And then I'm watching Gerald in the nose tackle. I'm like, 'Gerald's not the nose.' You know what, there's a lot of things on that tape, y'all, that just aren't adding up." Sapp said.
As Derrick Brooks said in yesterday's TAMPA TWO episode, the Bucs might be wise to burn the Chicago film and not even look at it. You can watch Brooks explain here.
Joe watched the games like the rest of Bucs nation. There's not a lot to say. The lack of in-game fixes on defense were extraordinary.
In eight days, the Bucs defense can show up if it wants to. They're certainly capable, but this time the opposing offense might be too much. Atlanta scored on 6-of-9 drives last year in the Georgia Dome. That's going to get you beat on most days.