"The Streak" Haunts Julio Jones
October 12th, 2018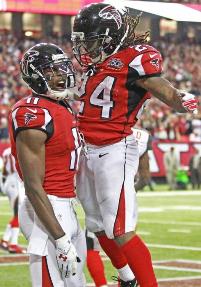 There's an unthinkable stat swirling around Falcons headquarters that is both encouraging to Bucs fans and troubling at the same time.
Superstar receiver Julio Jones, who averages a stunning 96.2 yards per game receiving through his career (think about that number), hasn't caught a touchdown pass in 10 regular season games.
"The Streak" is a mind-blower in Atlanta, especially considering the Falcons have an excellent quarterback and plenty of other weapons to distract defenses.
This might feel encouraging to Bucs fans, but that last Jones TD in the regular season came against the Bucs. In fact, Jones caught two that November 2017 day en route to 12-catch, 253-yard performance.
Jones has just nine TDs in regular-season play since the start of the 2016 season, but four are against the Bucs.
Bucs defensive coordinator Mike Smith coached Jones, groomed Matt Ryan and knows as much about the Falcons offense as anyone. The Bucs simply have to find a way to slow Jones on Sunday, like they did when they held him to just three catches and 54 yards in Week 15 last year.