Still Time To Fire Mike Smith
October 15th, 2018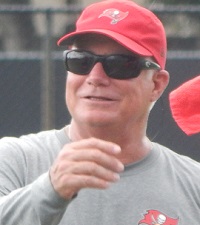 Joe often tells people that the NFL is a fluid business, as is covering the NFL.
One day's truth is another day's fiction or ancient history.
After the Windy City Wipeout two weeks ago, Dirk Koetter made it very clear that firing defensive coordinator Mike Smith was not going to happen, and that it was as an ill-advised option because he saw no viable alternative.
But that is two-week old news. What about now?
With two weeks to prepare for a familiar Atlanta foe, the Bucs defense marched onto the field and was horrendous overall — unprepared and outplayed. Koetter witnessed the very best bye-week, fix-job his defensive coaching staff had to offer and look what it produced.
Coach, there's still time to replace Smith and/or change his role. And if not, there's time to call in favors to get some seasoned advisory help at One Buc Palace immediately.
Pay for it out of your own pocket, if you have to. Frankly, if Mike Smith cared enough, he'd demand that Koetter hire at least one fresh set of eyes to come in and assess everything about this defense.
The Bucs rank last in the NFL in passes defensed (14) and in interceptions (1), in addition to being on pace to allow the most points in league history. And quarterbacks are completing passes against them at a league-record percentage, by a wide margin.
For a third-year defensive coordinator with talented players, it's fair to say this could be the most dysfunctional NFL defense anyone has ever seen.
That's a death row sentence in a passing league and the power players at One Buc Place know it. Will they have the fortitude to do anything, anything, bold to fix it?