Dirk Koetter Says He Won't Fire Mike Smith
October 1st, 2018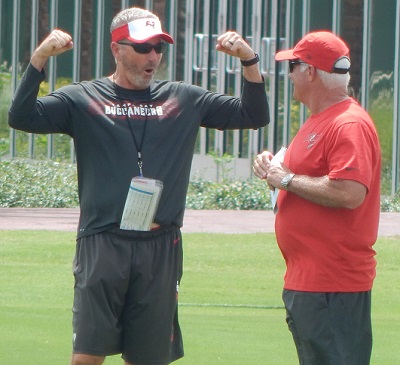 The guy responsible for fixing the brutal 2017 Buccaneers defense is the same guy who will be responsible for repairing the awful 2018 Bucs defense. 
That was the message from Dirk Koetter this afternoon at One Buc Palace.
The head coach will not be firing Mike Smith, at least not now.
Sad times for Bucs fans when you're gambling on a defensive coordinator who already has failed mightily — with a head coach who repeatedly has said that he doesn't get involved much in the defense, in part, because he doesn't want to screw it up.
Oddly, Koetter didn't endorse Smith; he sort of just said firing Smith won't fix anything.
"For those people who think snapping your fingers and changing your coordinator a quarter of the way through the season, ok, what would you do after that?" Koetter said. "If we fired Mike Smith, what would the next move be, alright?"
Koetter added coaches just need to figure out the defensive failures that were widespread and not isolated to Smith in any way whatsoever.
Koetter also emphasized that this is business and his personal relationship with Smith has zero to do with football decisions.
Joe understands business a little bit and thinks Koetter is overlooking the value of a shakeup in the face of rampant failure. Also, Joe doesn't buy the "what do you do after that" line.
First, after what happened to Jeff Tedford, Joe sure hopes Team Glazer demands that Koetter's staff has a detailed contingency and cross-training plan for every key coach.
Second, Koetter easily could defrock Smith and still keep him on staff. No need to fire him, just find him a new role. The man is a former NFL Coach of the Year. Find his strength and use it. Third, this Bucs team is in its third year in the same system. There's no question that linebackers coach Mark Duffner could handle the job and give it some new life.
Lastly, Koetter should realize by now — along with all Bucs fans and those paying attention — that Smith is not his Super Bowl defensive coordinator. And it is still all about winning the big trophy.
Making the move on Smith now likely would help Koetter learn more about his team and his staff, a key step in scoring the ultimate prize.