Now It's Time To Root For Mike Smith
October 3rd, 2018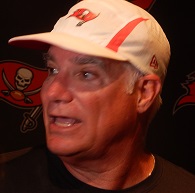 Mike Smith reminds Joe an awful lot of Doug Martin about now.
Martin failed and failed as a Bucs running back in 2016, yet there he was again in 2017, tasked with doing what he couldn't do the year before. Martin failed again consistently but was given chance after chance when other options existed.
Sound familiar?
As much as Joe railed against putting Martin on the 2017 roster after he was benched and then suspended in 2016 (and Joe begged after 2015 for Jason Licht to franchise tag Martin), Joe never stopped rooting for Martin on game day. Why? Because that's what fans do. They cheer for their team when the whistle blows.
Joe's typing this to avoid confusion. Joe called Sunday for Mike Smith to be fired. And Joe heartily disagreed Monday with Dirk Koetter's thoughts on why it's a bad idea to fire Smith. But you can bet your ass Joe is pulling 100 percent for Smith to turn this defensive mess around.
Joe would love to be wrong about Smith and Koetter's assessment of his handpicked defensive guru. Nothing would be sweeter. Break the status woe on defense.
Joe hopes Bucs fans from Clearwater Beach to Winter Haven and beyond feel the same way.