NFL Network Report: DeSean Jackson Asks For Trade
October 28th, 2018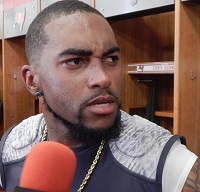 Perhaps DeSean Jackson is miffed because the Browns punted nine times last Sunday and he didn't get a return?
Or perhaps it has something to do with the Buccaneers' starting quarterback, or some bad sushi he ordered in South Tampa?
Joe can only speculate, but Joe does know Jackson was a very happy Buccaneer one month ago.
Regardless, Ian Rapoport of NFL Network, who has been known for questionable reports, claims today that Jackson has asked for a trade from Tampa Bay. The trade deadline is Tuesday and Rapoport says the Bucs aren't interested in dealing him.
Joe doesn't want to see D-Jack go now. If he really wants out, then the Bucs should tell him to ball out and they'll accommodate him after the season. Jackson has one year remaining on his contract and the money is not guaranteed.
It's no surprise that targets to Jackson have tailed off since the arrival of America's Quarterback, Jameis Winston, to the starting lineup. Against the Browns, Jackson caught his first pass in overtime, and it was a big one.
If the Bucs lose today, maybe, just maybe, that makes the team more eager to deal D-Jack. Joe has to think he would fetch at least a third-round draft pick.