Money Line
October 1st, 2018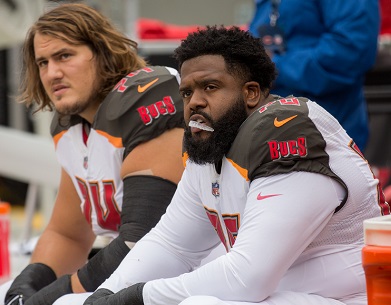 Joe's taking a big-picture look at some big offensive line decisions as we all get to exhale and regroup with the bye week providing time for healing and perspective.
Will Donovan Smith and Ali Marpet be worth the gargantuan money they expect to command?
First, let Joe commend Jason Licht for not yet extending the contracts of Smith, Marpet and Kwon Alexander, members of the grand slam draft class of 2015. All three are in their contract years and the make-them-earn-it approach is usually the correct call, especially for guys who aren't established superstars.
Bravo, Licht! Stay patient!
The Bucs' O-line is a fascinating unit when you think of its past, present and future. It's Licht's baby through and through.
All the decisions on that line represent his calls (minus the bizarre, top-secret rotation of Evan Smith and Caleb Benenoch, on the heels of the same bizarre Kevin Pamphile-Smith dance of 2017).
Back to Marpet and Smith, will the Bucs pay them top dollar, and Ryan Jensen — and Jameis Winston and an arsenal of elite receivers and tight ends? Joe can't imagine that's possible with a defense that's sinking faster than Joe's pants after a feast at Hooters.
Through four games, Smith has played better than Marpet, relatively speaking. But Marpet's also transitioning to a new position, which is am entirely different story that makes Joe want to run head-first into a wall considering how poor Benenoch has been at right guard.
Smith also is a 52-game ironman at a more valuable position, which makes him more valuable than Marpet around the league. Marpet has battled injuries in his career and isn't now looking like a $10 million-per-year guard, which is what it likely will cost to keep him.
Then there's the fact that Kwon Alexander, as very special as he can play, is the "heart and soul" of the NFL's worst defense — again.
You can also look at the Bucs' cornerbacks and it's nearly obvious that Licht will have open the Team Glazer vault for a cornerback in March of 2019, preferably a great one.
The present is everything, but Bucs fans and Joe have become conditioned to look to the future because of years of losing. An October bye week tradition is thinking about next year.
No, Joe has NOT given up whatsoever on 2018. On the contrary, Joe believes this Bucs offense can get hot again and at least average 26 points a game through the rest of the season. That's going to win games and would make life intriguing through the fall.
But of course, if the offense hums, then more guys will deserve to be paid — and the offseason decisions become tougher. If the offense stalls after a fast start with Ryan Fitzpatrick, well, then this is all probably moot because a new regime will want its own guys.