Mike Smith Responds To "Fire Mike Smith" Talk
October 10th, 2018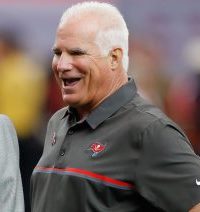 The leader of the Buccaneers defense, a former NFL (Head) Coach of the Year, took to the podium today at One Buc Palace to chat with media for the first time since the Windy City Wipeout.
It's been a very rough season for Mike Smith — and for Bucs fans watching his defense.
Yes, Joe called for Smith to be fired during the Bears game. And a couple of days later, Joe said it was time to pull for Smith because that's what fans do. In between, Dirk Koetter addressed the Fire Mike Smith chatter and said removing Smith was unwise, wouldn't be happening and one man is not to blame.
Today, Joe thought it was appropriate to give Smith a chance to address the fire smoldering around his employment. Smith dealt with that late in his tenure leading the Falcons.
JoeBucsFan.com: From the same podium, Dirk Koetter addressed calls out there, "Fire Mike Smith." And Coach said that's not happening and you guys are a team. Do you feel like you're immune to those kinds of comments after being a head coach.

Mike Smith: I got tracks on my back through the years, ok. That's part of it. You're in this business. It's a week-to-week business. You know, the great thing is that you get an opportunity to go out and do it again. It doesn't hurt my feelings that anybody has their own opinion. That's the way this world is. That's what makes it go around. You just go out and you do your job. Hey, you try to be focused on the task. The task at hand is real simple in the NFL; it's to have one more point than the other team. And we've been able to do that 50 percent of the time in the first quarter of the season. And I just want to say there's a lot of football still to be played. We're going to go out and do everything that we can to improve what we did in the first quarter of the season, especially on the defensive side of the football.
So there you go. Smith's feelings are intact and he's counting Ws and is very eager to fix things beginning on Sunday.