Sustainable Pace For Mike Evans?
October 26th, 2018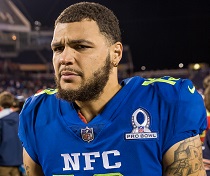 Mike Evans is on pace for 106 receptions and 1,576 yards. Both would be career highs, but there's another Evans number this season that's much more impressive.
Consider that the Buccaneers No. 1 receiver is catching 72.7 percent of the balls thrown in his direction.
His previous career high? That would be 55.7 percent back in 2014, with a pair of shoddy quarterbacks throwing him the ball. Evans nearly matched that (55.5 percent) in 2016, but dropped back to 52.2 percent last year.
It's been an amazing leap this season for Evans, who hasn't let off the gas after the Bucs rewarded him with a gargantuan contract in March.
Joe pulled data from the great Pro Football Reference site and below are the top 10 pass catchers this season in yards per game. Evans is ranked fourth with 98.5 yards per game. Alongside that total is the percentage of balls caught from passes targeted to those players.
Adam Thielen – 117.4 yards per game, 75.3% of targets caught
Julio Jones – 116, 65.4
DeAndre Hopkins – 101, 66.2 (before last night)
Mike Evans – 98.5, 72.7
Michael Thomas – 98, 91.4
JuJu Smith-Schuster – 93.5, 66.7
Davante Adams – 92.8, 66.2
Odell Beckham – 92.7, 66.3
Tyreek Hill – 90.7, 67.2
Zack Ertz – 88.3, 73.1
Wondering about other big yardage producers this year? Robert Woods' (Rams) percentage is below Evans', while Emmanuel Sanders' (Broncos) is better.
Regardless, Evans is in elite company and has taken his game up a full notch with that 72.7 percent catch rate. After the 2016 season, Bucs icon Derrick Brooks talked about how a 50 percent catch rate was "not good at all."
Can Evans sustain this pace? If so, he's in for an absolute monster year.
---

Yesss! TAMPA TWO is back with this week's Q&A episode. Derrick Brooks and Ira Kaufman are all over your questions, presented by Caldeco Air Conditioning & Heating. TAMPA TWO is a production of The Identity Tampa Bay and JoeBucsFan.com