McCoy Not Expected Back In Cincinnati
October 22nd, 2018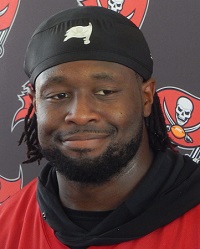 Joe heard the chatter from the ultimate Buccaneers insider yesterday.
And a little more digging today found the exact same take.
Six-time Pro Bowl defensive tackle Gerald McCoy is likely to miss two games with his calf injury suffered near the end of the Bucs-Falcons game, Ronde Barber said on FOX Browns-Bucs broadcast.
McCoy did not practice last week or play Sunday.
Things could change, sure. But that's the mindset at One Buc Palace. No McCoy next Sunday in Cincinnati.
Let McCoy heal. There's a ton of season left and McCoy wasn't exactly tearing up the NFL when he went down.
The Buccaneers' run defense wasn't good overall yesterday. Yes, Joe's going to attribute a chunk of that to McCoy's absence.
Still, the defense was much improved, and they managed a goal-line stand without McCoy or Vita Vea on the field when the Browns had their 1st-and-goal, which turned into 4th-and-inches.