Koetter Talks About Cutting Calls That Play To A Jameis Winston Strength
October 26th, 2018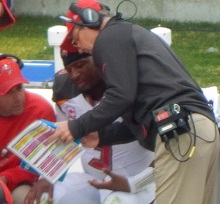 Dirk Koetter took you inside his offense-architect mind tonight as it relates to America's Quarterback, Jameis Winston.
Speaking on the Buccaneers Radio Network, Koetter responded to a fan caller who praised the work of Jameis outside the pocket and asked the head coach if he can design/call more plays to have Jameis throw on the run.
Koetter said he can but acknowledged that he's been phasing out designed scrambles even though Jameis is studly in that area.
"I do think Jameis throws well on the run. And you know the main reason that you don't design more of those is just because it's a little bit tougher to protect him when you're moving the pocket," Koetter said. "Some of that depends on the team that you're playing, like how do they defend bootleg type plays.

"A couple of years ago we did a fair amount of those. We didn't do quite as many last year. We haven't done as many this year. But they're definitely still a part of our offense. And I think that just kind of depends on who we're playing.

"But, you know, Coach Monken tells the guys all the time, 'What's our No. 1 pass play? Our No. 1 pass play is scramble.' And, you know, over the course of a normal season you have a little over 1,000 offensive plays and it's crazy but almost 10 percent, almost 100 plays in a normal season, end up being some form of a scramble play. So we work on it a lot, and I think it'll continue to be a big part. Jameis has done a really good job in that area. You're right."
Joe's not surprised Koetter and Monken are doing less movement of the pocket.
First, Jameis, per Koetter, is seeing the whole field at an elite level. Second, the Bucs now have weapons all over the field. When you move the pocket intentionally, you often shorten the field of opportunities.
---
Buccaneers legend Derrick Brooks joins JoeBucsFan.com columnist Ira Kaufman for another must-watch edition of TAMPA TWO! Enjoy the twice weekly show, a joint production of The Identity Tampa Bay and Joe. Proudly presented by Caldeco Air Conditioning & Heating.