Koetter: Jameis/DeSean Still A Work In Progress
October 21st, 2018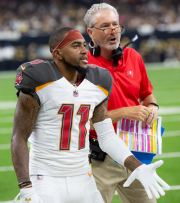 On the opening drive against the Falcons, we all saw Jameis Winston throw a dart well behind wide open DeSean Jackson in the end zone and the easy interception was dropped by Falcons cornerback Robert Alford.
The next play? A 15-yard touchdown strike to Cameron Brate.
It was such a microcosm of America's Quarterback and the Bucs passing attack. No matter how good Jameis was last Sunday, nobody can say he's got good chemistry with Jackson. Joe doesn't need to rehash the play-by-play of what went down — on the heels of what we witnessed last season.
(Fun fact, when in the red zone in 2017, Jameis only threw to Jackson once all season: incomplete.)
When asked about it Friday on the Buccaneers Radio Network, Dirk Koetter was not celebrating great chemistry between Jameis and Jackson. But Koetter was calling for perspective.
"I think they're working at it," Koetter said of connection issues with Jameis and Jackson.

"DeSean had four catches last week and had four explosives. … Let's give it some time to see how it plays out. Again, DeSean had four catches and four explosives last week."
Yes, something is missing between Jackson and Jameis, but Koetter is right. They still got plenty of good things done last week and there's time to start to gel and sizzle. It was Jameis' first start of the season.
Again, thankfully, that opening-drive pick was dropped. What a mess that would have been on so many levels.