Koetter Gushes Over Peyton Barber
October 13th, 2018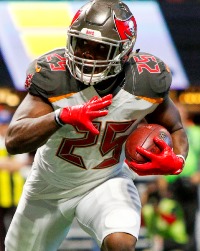 Remember when Lovie Smith was asked about young cornerback Johnthan Banks, he consistently found a way to share some love for veteran corner Mike "Toast" Jenkins.
Dirk Koetter channeled is his former boss a bit yesterday.
Koetter hopped on SiriusXM NFL Radio and was asked how rookie Ronald Jones is faring and where he fits in. Koetter said Jones is coming along fine used the opportunity to gush over the guy playing ahead of Jones.
"I still think that our No. 1 back is gonna be Peyton Barber. I really, Peyton had a great week of practice this week," Koetter said. "I don't think Peyton has really got enough opportunities."
You really had to hear Koetter's tone. There was a load of love and respect for Barber in there.
Joe strongly suspects this Sunday is the 20-carry, 100-yard game for Barber that fans have been waiting for after Barber opened very strongly in the first half against the Saints.
Barber has just 15 carries through the last two games. Atlanta allows 4.9 yards per carry and is as bad as the Bucs are on defense. It's all set up very nicely for No. 25.