"It's Remarkable"
October 10th, 2018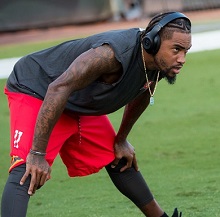 Falcons head coach Dan Quinn, a defensive guru in the NFL for several years, has spent his share of time studying film of DeSean Jackson.
Today, Joe asked him about it.
Joe joined a media conference call and the following exchange took place:
JoeBucsFan.com: Coach, you've been watching DeSean Jackson on film in the NFC for many, many years. What can you say about his game now versus when he came in [to the NFL] and how it's evolved?

Dan Quinn: I think it's remarkable because the speed feels exactly the same. It's just dynamic. It's off the line; it's finishing plays. So that part feels really good, you know, like you've seen him from before and to now. And that's pretty remarkable, then I think you can tell the route running, the discipline and then, quite honestly, how the coaches [in Tampa] feature him. They really have a good understanding of what he does best and then try to put him into those spots to accentuate that. So I thought pretty good match for a guy's talent and then to a scheme that seems to really suit his skills.
Yes, the Bucs have a lethal weapon in Jackson, a freakish athlete at the top of his game in his 11th NFL season, and he might be in just the right fit for his standout career. Also, teams can't afford to double cover Jackson because general manager Jason Licht has stocked the offense with a parade of other weapons.
Now, barring injuries, America's Quarterback, Jameis Winston, simply has to hit the open man and not giveaway the football like it's Halloween candy.