It Had To Happen
October 15th, 2018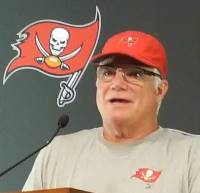 Yes, Joe called for the defrocking of Bucs defensive coordinator Mike Smith. This was a move that had to take place if the Bucs hoped to play meaningful games in January.
Joe gets no joy in seeing a good man doomed. But damn it, this is about winning and Smith and his defense was an albatross both to this team and his fellow coaches.
The defense was simply not prepared to play Week in and week out. Smith's defense was on a pace to set several NFL marks, and not the good kind.
The most outrageous element was that the Bucs were on pace to set an NFL record for most points allowed in a season.
There was just no way to expect the Bucs to compete this way. Joe looked it up and only twice in NFL history has a quarterback led an offense that scored more points than the Bucs were on pace to allow. Those two seasons were one each from Tom Brady and Peyton Manning.
This is a sad day but the sun breaks over the horizon. A new day and and maybe a better defense is here.