Ira Kaufman's 10 Takeaways From Falcons-Bucs
October 14th, 2018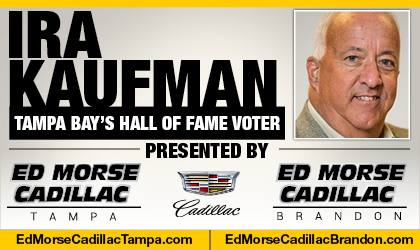 BY IRA KAUFMAN
The little things will get you every time.
The Bucs did some things very well Sunday in Atlanta, but the details did them in. This football team isn't good enough to overcome key mistakes — and Tampa Bay made too many of them in dropping to 2-3.
Gerald McCoy can't be flagged for an illegal use of the hands penalty on a 3rd-and-11 incompletion early in the second quarter. Instead of settling for a field goal, the Falcons scored on the next play.
That's a 4-point gaffe.
Chandler Catanzaro can't miss an extra-point try following a game-opening TD drive. That's a 2-point gaffe because the Bucs went for two later in the game and failed.
Anthony Auclair can't get called for a false start on second-and-goal from the 2-yard line. Instead of a viable pass-run option, the Bucs were forced to throw and Jameis Winston was intercepted on the next snap.
Not being good enough on the details will get you beat in the NFL, where the talent differential between teams is less than you think.
Tampa Bay's tailspin has now reached three games before the improved Browns come to town. With a chance to effectively eliminate the Falcons from the playoffs, the Bucs played well in spots but came up short.
Here's how it went down:
* Dirk Koetter called it "ballsy." Arthur Blank might have had another way to describe Dan Quinn's gutsy decision to bring on Matt Bryant instead of the punter from the Bucs 39 and Atlanta clinging to a 31-29 lead. Bryant seemed to pull a hamstring as he nailed a 57-yard FG. If Bryant had missed, Tampa Bay would have assumed possession near midfield, needing only a FG to win. By the way, Bryant has converted 88 percent of his FG tries and 99.4 percent of his extra-point attempts in the 10 years since the Bucs foolishly let him go.
* That's the Peyton Barber Buc fans saw in the preseason, a physical, hard-nosed back who always falls forward. Barber ripped off a 28-yard gain to highlight an 82-yard rushing effort, adding a short TD reception for good measure. That balanced attack helped the Bucs roll up 512 yards and tie a franchise record with 30 first downs.
* This Noah Spence situation is absolutely inexcusable. If he's not good enough to dress at this point in his career, release him. In Spence's place, the Bucs dressed Demone Harris, an undrafted free agent just promoted from the practice squad.
* The Bucs blitzed extensively Sunday, with mixed success, but wasn't this front four supposed to apply enough pressure to minimize the need for extra pass rushers? New defensive line coach Brentson Buckner can't be happy with the time Matt Ryan enjoyed on most of his pass attempts. And this was an Atlanta offensive line that failed to protect Ryan last week at Pittsburgh.
* Are we at the point where this defensive effort is to be applauded? Tampa Bay forced three third-quarter punts, but that doesn't erase the TD drives Ryan directed on his first three possessions. The Bucs didn't register a takeaway and finished with one sack as Atlanta converted 8-of-13 on third down. On the road, the Bucs have allowed at least 20 points to its last 14 opponents.
* While Winston and Cameron Brate continued their productive partnership, O.J. Howard also played well. Since the start of the 2016 season, Brate is tied for the league lead among all tight ends with 17 TD catches.
* To show you how brutal Tampa Bay's pass defense has been, Ryan finished with a QB rating of 125.5, which was actually an improvement for Mike Smith's embattled group. I believe the Fox broadcast crew just set a record for most camera shots of a defensive coordinator in the booth, holding his head.
* One sequence sure to be overlooked came near the end of the first half, when the Falcons took over at their own 25 with only 26 seconds remaining. Completions of 14, 17 and 16 yards against soft coverage led to a Bryant FG that proved critical.
* Ryan Smith had another forgettable day in Atlanta, but Kwon Alexander and Lavonte David led a second-half defensive effort that the Bucs need to build on. It wasn't great, but it was better.
* A couple of poor decisions ruined what could have been a day of triumph for Winston. Barring injury, he should take every snap the rest of the way. This offense remains potent, averaging 28 points. That's what makes this 2-3 getaway so frustrating for Buc fans who crave complementary football.
Now in his 40th year covering the NFL, Ira Kaufman is the most revered sports personality and writer in the Tampa Bay area. He scored a full-time seat at JoeBucsFan.com world headquarters in July of 2016. Tampa Bay's only Pro Football Hall of Fame voter busts out columns here every Monday, Wednesday and Friday, and his award winning podcasts fire Tuesdays and Thursdays. You can also hear Ira on SiriusXM Mad Dog Radio Wednesdays at 5 p.m. Also a TV star, Ira is part of the FOX-13 Tailgate Sunday NFL show at 10:30 a.m. He's also on BayNews 9 Mondays & Wednesdays at 10:30 p.m. "The Sage" enjoys beet salads, Riesling, tennis, Bette Midler, Chiefs victories and needling Joe. …WATCH IRA AND DERRICK BROOKS on the new TAMPA TWO show from The Identity Tampa Bay and JoeBucsFan.