Connection Failures Continue
October 14th, 2018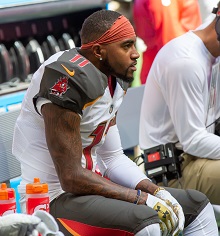 There are many reasons the Bucs lost today (see the Dirk Koetter defense). But one contributing factor is the missing chemistry between Jameis Winston and the man who now sits just 12 receiving yards shy of 10,000 in his career.
Of course, Joe is talking about DeSean Jackson. Of the 11 incompletions thrown today by America's Quarterback, five were to Jackson.
Two were on deep shots to the end zone, and one of those was a critical interception on an overthrow. On the other, Jackson was open but Jameis overthrew him.
Ironically, on Friday night, Koetter gushed on SiriusXM NFL Radio about how Jackson tracks the deep ball as well as any receiver he's been seen. Keep in mind that includes hands on work with Julio Jones, Roddy White and more.
"He gets football. I mean, DeSean understands football; he understands how to get open," Koetter said. "Another thing that I didn't know about him, there are a lot of fast guys, some of them are track guys that converted to football; that's not what DeSean is. He tracks the deep ball as well as anybody I've ever been around."
So what is the problem with Jameis connecting with Jackson deep? There really is no answer, which is the real problem. No fix necessarily exists. Chemistry between a quarterback and a receiver isn't something that can be explained or coached.
Koetter has said this multiple times over the years.
Today playing conditions were ideal for Jackson and Jameis and they still couldn't connect. That's unlikely to get easier when the elements are involved.
Joe's not assigning blame here. It is what it is. Jameis' arm looks to be in perfect shape, and the NFL technology in balls and uniforms reveals that Jackson remains one of the fastest players in the league. They're just not a great fit.
If it continues, however, at some point Koetter and Todd Monken might have to reconsider how they use Jackson.