Gameday Tampa Bay
October 28th, 2018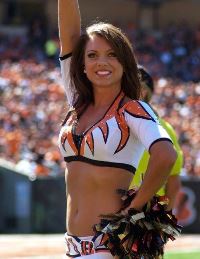 Game 7
Bucs (3-3) at Bengals (4-3)
Kickoff: 1 p.m.
TV: WTVT-TV Channel 13, DirecTV NFL Sunday Ticket Channel 709. 
Radio: Buccaneers Radio Network (WXTB-FM 97.9 in the Tampa-St.Petersburg region; 97.9 FM ESPN Radio in Tallahassee); Spanish language broadcasts on WTMP-FM 96.1 and WMGG-AM 1470 in Tampa; SiriusXM Channel 98.
Weather: Crummy weather for anyone, much less a team from Florida. Per AccuWeather.com, there is supposed to be rain on and off throughout the whole game with the temperatures in the mid-50s. Sounds like a nice day to develop a run game — oh… wait!
Odds: Per FootballLocks.com, Bengals -3.5.
Outlook: This is another game where one could argue it is Separation Sunday. Two teams that could make a playoff run, but little chance they can win a division. Sooner or later the Bucs are going to have to beat a decent team not in the NFC South. Why not now? A key will be how improved is the defense under new defensive coordinator Mark Duffner now two weeks under his gaze? Joe doesn't know what to think about last week because, while encouraging with a first-half shutout, the opponent was the Browns and a rookie quarterback. The Bengals have a lousy defense and the Bucs should be able to put up points (so long as whoever is calling plays quits trying to run Jacquizz Rodgers up the middle on first down — just stop that noise, will you? Whoever is responsible, for the love of all that is sacred? Joe suspects the Bucs and the Bengals will be in a shootout.
Trinkets: The Bucs have won six of the past seven meetings with the Bengals. … QB Jameis Winston looks for his third game in row with 350+ passing yards. In his past three road games on AFC soil, Jameis has 995 passing yards (331.7 per game) with five touchdowns and two picks. In his last three road games Jameis has 1,032 passing yards and seven touchdowns against two picks. … RB Peyton Barber is averaging 65.6 rushing yards a game in his past five road games. … WR Mike Evans led the Bucs with 7 receptions for 107 yards last week. He has 371 receiving yards (92.8 per game) and a touchdown catch in his past four road games. In his last four games against AFC teams Evans has 25 catches for 424 yards (106 per game) and two touchdowns. … WR DeSean Jackson had a rushing touchdown last week, the fourth of his career. … In two career road games facing AFC teams, TE O.J. Howard has nine catches for 150 yards (75 per game) and three touchdowns. Howard is looking for his third straight game with at least 60 yards receiving. … DE Jason Pierre-Paul has a five-game streak with at least a sack. He is on pace for 16. JPP has three sacks and a forced fumble in his last three games against an AFC team. … LB Lavonte David had eight tackles, two tackles for loss and a forced fumble last week. Since 2014, David leads the NFL with 16 forced fumbles. … DE Carl Nassib had a career-high two sacks last week. … Bengals QB Andy Dalton has seven touchdown passes and one pick in his past three home games. He has 2+ touchdown passes in four of his past five games against an NFC team. Dalton has 330+ passing yards in each of his past two games against the NFC. He has 15 touchdown passes this season. … RB Joe Mixon has 80+ scrimmage yards in five of his past six games. Looking for this third straight home game with a touchdown. … WR A.J. Green had seven catches for 117 yards last week against the Chiefs. He has 110+ receiving yards in two of his past three games. In his past nine home games, Green has 770 receiving yards (85.6 per game) and seven touchdown catches. Since entering the league in 2011, is one of two players, along with Antonio Brown, with 575+ catches (596), 8,000+ receiving yards (8,824) and 60+ touchdown catches (62). … WR Tyler Boyd has three touchdown catches in his past three home games. … DE Carlos Dunlap had a sack last week. He has a sack in four of his past five games. … DT Geno Atkins has three sacks and a tackle for a loss in his past four games against an NFC team. He has at least two sacks in two of his past three home games. Ranks second among NFL defensive tackles with six. … Rookie S Shawn Bates had 12 tackles last week against the Chiefs. Is looking for his third straight game with at least 10 tackles. He leads the Bengals with 54 tackles.