DeSean Jackson Says "Pray For" Kwon Alexander
October 21st, 2018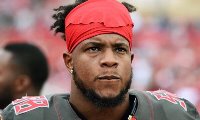 Joe already has written about the bad news surrounding Kwon Alexander's injured knee, but it appears the worst possible football situation has been confirmed.
DeSean Jackson reached out on Twitter minutes ago to say Kwon's season is over and he should get your prayers tonight.
Y'all Pray 4 my Lil bra @Showtime17Kwon he suffered a season ending injury today .. 🙏🏾 this one of the most loyal dedicated young talented players I've seen !! Much love & respect Lil bra… https://t.co/YRtSgt2bbE

— Desean Jackson (@DeSeanJackson11) October 21, 2018
You can read Joe's post about the NFL Network reporting on Kwon's injury here, and Joe's take on contract ramifications that could end Kwon's future in Tampa.
The Bucs sure will miss Kwon. He's not a perfect player, but he had a hell of a first half today and the Bucs don't have a backup who can step up and fill his shoes. And please don't tell Joe that Kendall Beckwith will be ready to ball out soon. The guy hasn't practiced since 2017.