Report: Bucs Fear The Worst For Kwon Alexander
October 21st, 2018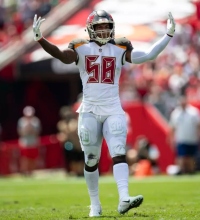 Joe feels terribly for Pro Bowler Kwon Alexander, and the Bucs now appear to find themselves in a very sticky situation.
Kwon Alexander left the field today with a knee injury and Ian Rapoport of NFL Network reported that his sources say the Bucs fear a dreaded ACL tear for Kwon, which would end his season and put the 2019 season in jeopardy.
Yes, players recover from ACL's in eight to 10 months, but some need a year or more.
Kwon's contract expires after the season and he and his agent, oily Drew Rosenhaus, were in talks with the Bucs about a new deal. In the fourth-year of his rookie contract, Kwon was earning the NFL version of peanuts as a fourth-round draft pick. Joe had heard Kwon was seeking Lavonte David money, aka $10 million per season.
Scoring anything like that would be pure fantasy, if he indeed has an ACL tear.
Tough decisions ahead for the Bucs' front office. But Joe's not sure it'll be that difficult. This team has too many needs to pay a big contract to a player with a serious injury. Hopefully, the Bucs can find a way to bet on Kwon that makes sense for both sides.
Tonight, Joe will think of Kwon and hope the strong game he played today wasn't his last in a Bucs uniform.