Did Competition Crumble Jameis?
October 29th, 2018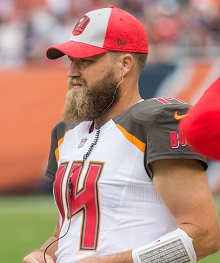 NFL coaches love to say competition is desired at every position because it's what elevates players' games.
Well, America's Quarterback, Jameis Winston, got his first taste of competition in many, many years and has fallen on his face. 
The seasoned and competitive force of Ryan Fitzpatrick was supposed to, in theory, make Jameis better. Not only was Jameis to learn from Fitzpatrick, in theory, Jameis was going to be elevated and inspired by the record-breaking success of Fitzpatrick earlier this season.
Also, Jameis had a chance to watch Fitzpatrick look awful against the Steelers in the second quarter of that Week 3 game and then clear his head at halftime and bounce back to ball out.
But it appears the competitive presence of Fitzpatrick actually took down Jameis. It's as good of a guess as any to explain the rapid fall of Jameis.
Joe is still stunned by Jameis throwing 10 picks in his last 13 quarters. That's damn hard to do and it's no coincidence.
The only thing that could fix 49-game veteran Jameis is more playing time combined with fresh coaching and perhaps a sports psychologist. But ironically, competition, a factor that was supposed to make Jameis better, is probably going to keep Jameis on the bench.