Coaching Survival Game Next
October 14th, 2018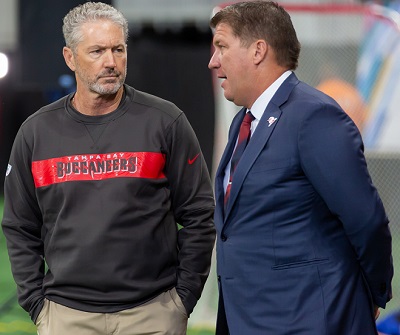 Dirk Koetter is responsible for the Buccaneers' terrible defense every bit as much as Mike Smith is.
That fact isn't lost on Joe or anyone minding the store at One Buc Palace.
The head coach can't get a mulligan presiding over what currently is the worst defense in the history of professional football — if you count things like points allowed and the completion rate of opposing quarterbacks. Yeah, it's that bad.
Today's loss to a bad and depleted Falcons team dropped the Bucs to 2-3 and they're riding a three-game losing streak.
Up next, the Browns on Sunday at the Stadium on Dale Mabry Highway.
Joe doesn't think it's a stretch to say Koetter's job is on the line in that game. No, Koetter won't get fired if the Bucs lose to the Browns. However, Joe firmly believes a home loss to Cleveland, truly an unthinkable happening, would launch Team Glazer into coaching-search mode.
Bucs players, not all, admitted they heard the Chucky-to-Tampa chatter last fall and realized they better start playing harder to save their coach's job. Joe hopes the players wake up in a hurry to the reality of this year's situation.
Sunday should be treated as the Super Bowl for everyone associated with the organization.
Losing to the 2-3-1 Browns is not an option under any circumstances.