Run Efficiency Is Relevant
October 10th, 2018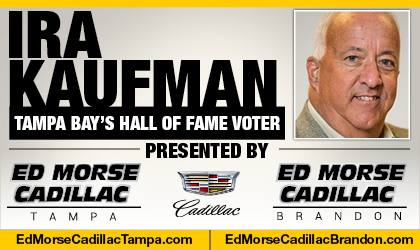 BY IRA KAUFMAN
The cash is flowing up front for the Tampa Bay Buccaneers.
The production? Not so much.
Seven months after making Ryan Jensen the NFL's highest-paid center, Tampa Bay showed Ali Marpet the money with a lucrative 5-year contract extension.
Can Donovan Smith, a fellow member of the 2015 draft class, be far behind?
The Bucs could end the season with one of the league's most expensive offensive fronts, so it would be nice if George Warhop's group starts living up to its collective paycheck.
The first two games went very well, especially in terms of pass protection, but the line played poorly against Pittsburgh and Chicago. And amidst all this inconsistency, one common thread has emerged: The running game stinks.
There's no other way to put it and this time around, there's no Doug Martin to blame. Coming out of the bye week, this ground game is averaging a mere 3.1 yards per carry. Guess who has the only rushing touchdown?
That's right, Ryan Fitzpatrick.
Priorities
The right side of the line is struggling and Marpet's play has been uneven at left guard.
"One of our top priorities heading into this season was to secure our core players to long-term deals and I am thrilled to add Ali to that list," says Jason Licht. "In his first four seasons, Ali has developed into one of the league's best offensive guards and we believe he will only continue to improve."
The Bucs have abruptly shifted Marpet all across the interior, from right guard to center, then to left guard after signing Jensen as a free agent.
Next April, expect the Bucs to address the offensive line in a major way. In the past three drafts, the Bucs have used only one premium choice up front — and Alex Cappa has yet to take a snap.
This ineffective ground game has to be driving Dirk Koetter crazy.
He arrived as offensive coordinator in 2015 with considerable fanfare and the Bucs promptly flashed an attack with balance and production. Martin and Charles Sims each averaged 4.9 yards per carry running behind Smith, Logan Mankins, Joe Hawley, Marpet and Gosder Cherilus.
Martin dashed 84 yards on one carry and Sims registered a 59-yard scamper.
But in the ensuing 36 games, that average has plunged to 3.6 and the longest run has been 45 yards. Perhaps rookie Ronald Jones will supply the long runs Koetter craves.
"From an efficiency standpoint, we're not where we need to be, but the flip side of that is our passing efficiency is off the charts," Koetter says. "We have goals for every down and distance area, for every breakdown area that we'd like to be hitting in efficiency-wise. If you're not hitting those, you try to fix them.

"Again, at the same time, there's a point of banging your head against the wall too, right? There's a point of sometimes you've just got to go with what works and not worry about it. I think that is a trend across the league. I think there's more than one team doing that."
Many NFL clubs are relying on the pass to set up the run. With these rules, you'd be foolish to approach it any other way.
But that doesn't mean rushing efficiency is irrelevant. Good running games protect leads in crunch time, make play-action passes spring to life and keep struggling defenses off the field.
With a more effective ground game, Jameis Winston will be a more effective quarterback. This problem has been going on for far too long.
Fix it, or someone else will.
Now in his 40th year covering the NFL, Ira Kaufman is the most revered sports personality and writer in the Tampa Bay area. He scored a full-time seat at JoeBucsFan.com world headquarters in July of 2016. Tampa Bay's only Pro Football Hall of Fame busts out columns here every Monday, Wednesday and Friday, and his award winning podcasts fire Tuesdays and Thursdays. You can also hear Ira on SiriusXM Mad Dog Radio Wednesdays at 5 p.m. Also a TV star, Ira is part of the FOX-13 Tailgate Sunday NFL show at 10:30 a.m. He's also on BayNews 9 Mondays & Wednesdays at 10:30 p.m. He enjoys beet salads, Riesling, tennis, Bette Midler, Chiefs victories and needling Joe. …WATCH IRA AND DERRICK BROOKS on the new TAMPA TWO show from The Identity Tampa Bay and JoeBucsFan.
Can't-miss TAMPA TWO below! Click play below and soak in the knowledge as Derrick Brooks and Ira Kaufman go deep on the state of the Bucs at the 2018 quarter pole.  It's the hot new show by The Identity Tampa Bay and JoeBucsFan.com presented by Caldeco Air Conditioning & Heating.