Balance Or Bust
October 12th, 2018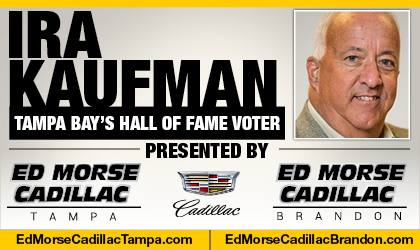 BY IRA KAUFMAN
Some people claim balance is the key to life. It's a noble concept with applications to the National Football League.
The Bucs, in particular.
Through four games, Tampa Bay's passing statistics stack up with the best of 'em, but Dirk Koetter's team lacks offensive balance. The Falcons are also struggling to run the ball effectively, one reason they are 1-4 heading into Sunday's matchup.
These two defenses have been shredded on a weekly basis and both clubs are losing the battles up front. Matt Ryan absorbed too many hits in Pittsburgh and Tampa Bay's protection didn't hold up well enough against the Steelers or Bears.
If the Bucs don't get their ground game together, Jameis Winston will throw too often and face too much pressure. Mike Smith's embattled defense will be on the field for too long.
"The best teams I've been a part of had balance," says Atlanta coach Dan Quinn. "The ability to run the ball adds toughness, adds to the overall physicality of your team. It's an important part of what we do because when the run game gets going, our play pass feeds off of that."
The same principle applies in Tampa, where the Bucs are 1-14 in the past five years when they attempt 20 runs or fewer. The lone exception came in 2014, when Mike Glennon threw a game-winning TD pass to Vincent Jackson in the final seconds at Pittsburgh.
Easy Prey
Devonta Freeman's foot injury has robbed the Falcons of their balance.
The only time they have run successfully came in Week 2 against Carolina, when the Falcons rushed for 170 yards.
Is it any coincidence that is their only win?
The Bucs have an opportunity to resurrect their running game Sunday because opponents are averaging 4.9 yards per carry against the Falcons.
Injured middle linebacker Deion Jones, who sets the defensive tone, hasn't played since the season opener and won't be back until mid-November, at the earliest.
Jones is a more polished version of Kwon Alexander, just as quick to the ball and more disciplined in his reads.
I asked Quinn what qualities his defense is missing with Jones sidelined.
"The way he can match up on running backs, his excellent key and diagnose, the way he get the ball turned back quickly. The communication he brings," Quinn said. "We're pumped we will get him back, but it won't be for a little while."
Quinn's starting safeties are done for the year, so the middle of Atlanta's defense looks like easy prey. The Bucs must take advantage of inexperienced replacements — and that starts with getting Peyton Barber involved early and often.
Winston is back and eager to contribute, but the sweet spot for the Bucs seems to be when they throw 30 times, not 40.
Moderation.
Balance.
Sounds like a plan.
Now in his 40th year covering the NFL, Ira Kaufman is the most revered sports personality and writer in the Tampa Bay area. He scored a full-time seat at JoeBucsFan.com world headquarters in July of 2016. Tampa Bay's only Pro Football Hall of Fame busts out columns here every Monday, Wednesday and Friday, and his award winning podcasts fire Tuesdays and Thursdays. You can also hear Ira on SiriusXM Mad Dog Radio Wednesdays at 5 p.m. Also a TV star, Ira is part of the FOX-13 Tailgate Sunday NFL show at 10:30 a.m. He's also on BayNews 9 Mondays & Wednesdays at 10:30 p.m. He enjoys beet salads, Riesling, tennis, Bette Midler, Chiefs victories and needling Joe. …WATCH IRA AND DERRICK BROOKS on the new TAMPA TWO show from The Identity Tampa Bay and JoeBucsFan.