Brentson Buckner Says Vita Vea Was Frustrated, "Realized He's A Special Talent"
October 8th, 2018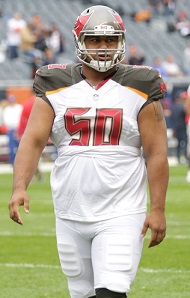 Joe planned on doing the smart thing today at One Buc Palace. No, not apply for the defensive coordinator position.
Joe asked colorful defensive line coach Brentson Buckner a simple question about Vita Vea's debut and then shutup to soak what was sure to be a great answer.
Here's Buckner's verbatim reply:
"Vita looked just like I thought he would, you know, being his first game since the Rose Bowl," Buckner said. "He looked exactly like I thought he would. But one thing I will take my hat off, being his first game since January, he played over 30-something snaps and played hard, I was very proud of that. But like anything, he still has technique stuff he's got to work on, getting caught up with the speed of the game. But I think what he realized is that he's a special talent. Because even at 25 percent capacity mentally and technique-wise, he still is a hard guy to move.

"I know you all was looking for 10 sacks and 13 tackles for a loss, and then we could get the Warren Sapp comparisons and all that. He's still a kid. Vita should still be in college if I'm not mistaken and he's missed all that time. But he's a kid that's growing and he's working hard. And there's another kid that was frustrated with the way he played because he has pride in his work. He didn't let, 'I've been injured' be an excuse. He was like, 'Coach, I got to get better.' And [with] that type of attitude with the way he work, you know, sky's the limit for him."
Encouraging stuff there from Buckner about the No. 12 overall pick.
Very interesting to Joe that Buckner pegged Vea at "25 percent capacity mentally and technique-wise." That's a mountain of room for improvement from a mountain of a man.
WATCH THE CAN'T-MISS TAMPA TWO! Click play below and soak in the knowledge as Derrick Brooks and Ira Kaufman go deep on the state of the Bucs at the 2018 quarter pole.  It's the hot new show by The Identity Tampa Bay and JoeBucsFan.com presented by Caldeco Air Conditioning & Heating.