Barber Answered The Bell
October 14th, 2018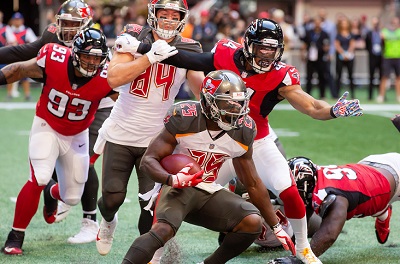 Patient. Powerful. Relentless.
That's the Bucs' No. 1 running back.
Dirk Koetter pretty much announced to the world this week that the Bucs would make more of a commitment to run the football today. And the on Friday night on SiriusXM NFL Radio, Koetter reinforced that Peyton Barber is his No. 1 guy.
Tampa Bay did run the ball more today in the groin-stomp loss to Atlanta, and it was a bright spot.
No, Barber doesn't have electric speed and he's not going to a Pro Bowl anytime soon. But he's worthy of being a No. 1 running back.
Barber flashed just about every aspect of his game in 13 carries for 82 yards today, as well as four catches on four targets for 24 yards and a TD grab. Joe almost could hear a feint call of the iconic A-train whistle when Barber powered through and over two Falcons defenders on a second-half run up the gut.
The Bucs are still figuring out what they have in 24-year-old Barber, and it looks pretty good. His yards per carry is now up to 3.7 on the season. That's not special, but it is when you're used to seeing Doug Martin carry the load.
Hopefully, Dirk Koetter decide to run left more often and to ditch some (not all) of the stretch calls for Barber that rarely work well.