8 Reasons The Bucs Can Flatten The Falcons
October 13th, 2018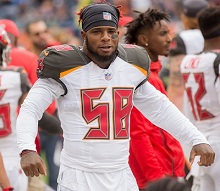 A 3-2 record is right there in the grasp of your beloved Buccaneers.
Outside of an injury to Matt Ryan, who hasn't missed a game since 2009, it doesn't get any better than this when it comes to facing the rival Falcons on the road.
*The Dirk Koetter Buccaneers have a history of bouncing back after brutal defeats. Yeah, it's unfortunate to have a such a history, but it's encouraging after the Windy City Wipeout. The Bucs are 3-1 since Koetter took over in games following losses of 17 points or more. … The Bucs have had just one bye week under Koetter and they beat a bad 49ers team by 17 points upon their return. With an extra post-Hurricane-Irma week to prepare for the Bears last year, the Bucs jumped out to a 26-0 halftime lead and coasted to victory.
*Jordan Whitehead: Yes, the rookie safety is back healthy and the Bucs sure missed him against the Bears. He can ball and he brings a needed intensity. Joe thinks it's no coincidence that the Buccaneers shut out the Steelers in the second half of their September game with Whitehead playing in place of Chris Conte. Whitehead has plenty to learn but he represents a big upgrade.
*Vita Vea: The manbeast rookie got his NFL legs under him in Chicago and should start and play a lot more Sunday. He flashed his high ceiling and Joe suspects he'll at least set up the guys around him for a couple of big plays in Atlanta.
*Talent! Mike Smith is a poor defensive coordinator by NFL standards, but he does have star talent to work with at every damn level of his defense. And talent has a way of making plays despite coaching. Just add up all the talented dudes on the defense and the odds are in favor of the Bucs defense improving at least enough to hold the Falcons to four touchdowns. Dirk Koetter said last night that "changes" were made to the defense during the bye week. That got Joe so damn excited.
*Perfect matchup for the Bucs offense. It might not get better than this all season — all season. The Falcons have tons of injuries to talented players. The gut of their defense — studs at defensive tackle, middle linebacker and safety — will not play. Against the Steelers, they couldn't stop the run and they couldn't pressure Ben Roethlisberger. Officially, they hit him one less time than the Bucs hit Mitch Trubisky. The Bucs offense is as healthy as any in football. Whatever the Falcons try, the Bucs have the juice to counter efficiently.
*Energy: It's all going bad for Atlanta. They didn't show up for their absolute must-win game against the Steelers last weekend, on the heels of fourth-quarter choking against the Saints and Bengals. That got Dixie Chicks owner Artie Blank very cranky this week. Good friend of Falcons head coach Dan Quinn, Pat Kirwan of SiriusXM NFL Radio, said he knows Quinn has no answers for his defense and all their injuries. The Bucs, on the other hand, are upbeat, optimistic and humbled by their 2-2 record. All the energy is good with the return of America's Quarterback, Jameis Winston.
*O-line rebound: The Bucs' pass blocking has been good overall, but this is the week for the left side of the line to prove their worth as run blockers with expensive center Ryan Jensen. There are zero excuses, and these guys are super fresh. A little birdie told Joe that Donovan Smith getting that bye week off has brought his knee back to 100 percent. (It's easy to forget that late-August injury). Joe suspects the touted Jensen "nasty" ruboff may even appear this week, especially with Ali Marpet relieved with a new contract.
*Open roof: The story is on the home page. The cage officially is open on the Falcons. You know how brutal the Bucs defense is in domes. It's a sign from the football gods.
*PROFESSOR DERRICK BROOKS talks about studying "foundational tape," approaching an elite Atlanta passing game, "stance, alignment assignment" and more with JoeBucsFan.com columnist Ira Kaufman in TAMPA TWO, presented by Caldeco Air Conditioning & Heating. Enjoy!!