Why The Explosion Of Offense?
September 21st, 2018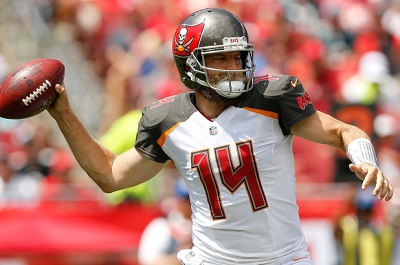 Last weekend, more quarterbacks completed 70 percent or more of their passes than the QBs that did not.
Passing is up in the NFL and the Bucs are taking advantage. But why the passing explosion? Could be a variety of factors including new rules. Bucs coach Dirk Koetter said yesterday he is inclined to think is new rules.
Since the 1970s, rules have gradually given the passing game more freedom beginning with the Mel Blount Rule. Now, receivers can barely be touched by defensive backs and quarterbacks are protected to the point that if a defender breathes on the guy it's a penalty.
"The rules… I hadn't really thought of that," Koetter said. "It could be. It's tough to be a quarterback-sacker right now. When we get the videos every week, the rules on what you can do hitting the quarterback are definitely slanted towards protecting the quarterback – there's no question. Does that account for the difference between 60 percent and 72 percent [completion percentage]? I don't know. I think it's unusual.

"I think one thing is when the weather gets colder, I think the offenses will slow down. I think that's one thing that hurts the offense a little bit is when it gets colder. I don't think that happens in Tampa, but it happens in some parts I'm told. I don't really know. I don't really know why."
Defensive coordinator Mike Smith didn't want to talk about rules. With a twinkle in his eye, it seemed as though it was a subject too sore for him not to spout a few four-letter adjectives.
Smith is of the mind the passing uptick has happened for a variety of reasons.
"It makes some defensive guys want to pull their hair out, I can assure you," Smith said. "The game is changing. The rules are changing. It is definitely going in that direction. I think that's what fans like to see. They love to see the ball in the air. It almost looks like college games and we've been in a couple of them."
Smith cited better passing schemes, better pass protection, spacing of receivers and the use of hybrid running backs as all factors in the increase in passing.
How or why passing has blown up the first two weeks of the 2018 season may be a mystery. But the Bucs sure have delivered through the air, leading the NFL in passing yards. They are keeping up with the Joneses.