Tough Enough?
September 29th, 2018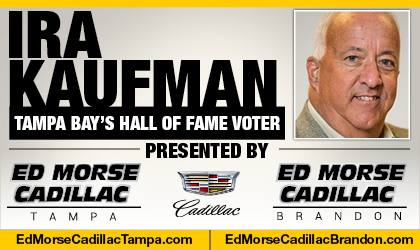 BY IRA KAUFMAN
This game has all the subtlety of a Mike Tyson left hook.
If you're seeking an incisive preview of Sunday's matchup at Soldier Field, look no further than Tyson's immortal quote when asked about his boxing philosophy:
"Everyone has a plan — until they get punched in the mouth," he said.
That's what this game against Chicago looks like, a smash-mouth duel that will test the mental toughness of the Buccaneers.
There's no Drew Brees to worry about, no trick plays that are the hallmark of the Eagles. Nobody's worried about covering Antonio Brown this week.
No, this is a battle of wills and mental toughness against a Chicago team seeking its first 3-1 start since 2013. These Bears look like a throwback to some of Lovie Smith's successful clubs in the Windy City — pedestrian passing game, solid rushing attack and stout defense.
In those days, Brian Urlacher set the physical tone on defense. He's already been rewarded with a bust in the Pro Football Hall of Fame. A decade later, it's Khalil Mack's turn.
"What he has done is completely elevated everybody else on that defense," says Bears coach Matt Nagy.
Jon Gruden's castoff has quickly morphed into Nagy's godsend. Mack already has registered four sacks and three forced fumbles and the Bucs must account for him on every snap.
Mack is having the same effect that Calais Campbell had on the Jaguars in 2017, raising the level of play for talented teammates. He's a difference-maker. Once Mack arrived in a trade, the Bears have blitzed less, dropping seven into coverage.
Who needs to send extra pass rushers when you already lead the league with 14 sacks?
Winning Formula
Tampa Bay's offensive line, coming off a poor performance Monday night, needs to keep Ryan Fitzpatrick upright long enough to find all those talented targets.
Chicago could easily be 3-0, having blown a big lead against Green Bay in the opener. The Bucs also feel they should be 3-0 after a fierce comeback effort against Pittsburgh came up just short.
The Bears pride themselves on maintaining possession and winning the turnover battle. Through 15 career starts, Mitch Trubisky has thrown more picks than touchdowns, so Tampa Bay's porous pass defense may catch a break.
The Bucs haven't opened 2-0 on the road since 2010, which also happens to be the last time they won at least 10 games. They deserve a lot of credit for standing tall after a brutal 3-game stretch and a victory Sunday would make for a joyous bye week.
To get there, however, the Bucs have to avoid the Khalil Mack haymaker. Protect the football, play smart, play physical and keep your poise against a defense eager to punch you in the mouth.
"I'm thrilled, I'm blessed to be in the position I'm in," Mack says. "The will to win, you see it, especially in the back end, the linebackers up front, just everybody is jelling together. It's a brotherhood. Something special is going on."
Now in his 40th year covering the NFL, Ira Kaufman is the most revered sports personality and writer in the Tampa Bay area. He scored a full-time seat at JoeBucsFan.com world headquarters in July of 2016. Tampa Bay's only Pro Football Hall of Fame busts out columns here every Monday, Wednesday and Friday, and his award winning podcasts fire Tuesdays and Thursdays. You can also hear Ira on SiriusXM Mad Dog Radio Wednesdays at 5 p.m. Also a TV star, Ira is part of the FOX-13 Tailgate Sunday NFL show at 10:30 a.m. He's also on BayNews 9 Mondays & Wednesdays at 10:30 p.m. He enjoys beet salads, Riesling, tennis, Bette Midler, Chiefs victories and needling Joe. …WATCH IRA AND DERRICK BROOKS on the new TAMPA TWO show from The Identity Tampa Bay and JoeBucsFan.