"It's Time For The Bucs To Stop Beating Their Heads Against The Wall"
September 4th, 2018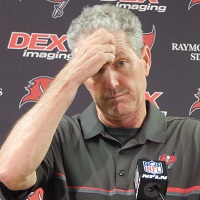 Tampa Bay Times data-obsessed Bucs reporter Thomas Bassinger is no fan of Dirk Koetter's playcalling.
It seems that when Koetter made the point this year that five out of six teams that rushed for 2,000 yards or more last season made the playoffs, Bassinger launched a new line of research to illuminate fans on the value — or lack thereof — of rushing totals.
Bassinger's long and highly-detailed analysis is here. Frankly, Joe has little patience for the numbers crowd and Bassinger's piece made Joe want to run head first into a blunt object a few times.  Ironically, that's what Bassinger thinks Koetter does repeatedly, metaphorically speaking, with his run-first approach.
Bassinger concluded Koetter needs to stop pounding the rock because there's no proof it's the key to winning games, unless you're the team running to protect a lead in the fourth quarter.
"It's time for the Bucs to stop beating their heads against the wall. The modern NFL is a pass-first league, and the best time to pass is when you don't have to," Bassinger wrote.
All that data chatter exhausted Joe. But Joe does know the Bucs and Koetter must find a way to stop with the slow starts to games. It's a crushing pattern that must be quashed.
Run, pass, whatever, just start scoring more than 10 points in the first halves of games. The Bucs hovered around a paltry 8-point average through last season.