Inside Jameis Winston's Tailored Suspension Plan
September 4th, 2018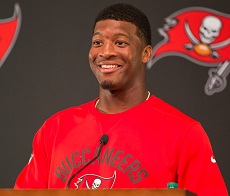 The Buccaneers made select assistant coaches available to media yesterday and Joe got 1-on-1 time with QB coach Mike Bajakian.
Of course, the subject of America's Quarterback arose.
Joe's primary interest was the plans of Jameis Winston during his suspension that ends September 25.
There were questions for which Bajakian would not provide an answer, or said he didn't have an answer. Ok. Joe gets how the paranoia in the coaching circuit is alive and well. But Bajakian did explain that a focus for Jameis will be on adhering to a clear volume of throws and maintaining a throwing schedule that mirrors the Buccaneers' work without him.
In simple terms, Jameis won't loosely go out for throwing sessions on a Friday morning and then gather his unemployed-receiver friends for a double session on Saturday evening before he hits the couch for a day off watching football on Sunday. The understanding is that Jameis, for example, will throw heavily on Wednesday and Thursday — normal practice days for the Bucs — followed by tapered work before going strong again on Sunday (a typical game day).
The concept is simple: stay on the NFL schedule as much as possible.
Bajakian called Jameis "a worker" and said he's confident Jameis will put in the time. The keys are "a volume of throwing so that the arm stays in shape" and his feet don't get rusty
"The most important thing is just staying crisp, staying engaged with the different types of throws and different types of drops and the footwork aspect of it that can come up in a game," Bajakian said.
Joe sure hopes Jameis has already started working with Bernard Reedy, Donteea Dye and Louis Murphy, and even drags Vincent Jackson out of his restaurants for a couple of workouts. Throwing to guys who know the Bucs' offense should give Jameis a leg up.