Noah Spence's New Role
September 18th, 2018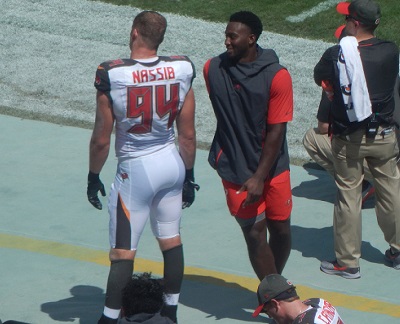 Here's what really know about Noah Spence:
Dirk Koetter thinks defensive ends Will Clarke and Carl Nassib, two guys cut from rosters this month, are more valuable football players than Spence. Both played Sunday against the Eagles while healthy Spence was in street clothes, inactive and not part of the gameday roster.
This is not how it's supposed to go for second-round draft picks.
Spence was selected No. 39 overall in the 2016 NFL Draft and had a very solid start to his career, earning the respect of Dirk Koetter for his willingness to battle through a season-long shoulder injury to 5 1/2 sacks for a 9-7 football team.
Spence mysteriously dropped to under 230 pounds about 16 months ago, surprising the Bucs with a chiseled body more suited to the beach than their roster. Remember, Spence was an undersized defensive end coming out of college at 251 pounds. Nobody at One Buc Palace had told him to drop 20 pounds.
Fast forward to this offseason, Spence, while recovering from shoulder surgery, got up to about 260 pounds and looked great and proclaimed himself healthy and ready. But toward the end of this year's training camp, Spence looked like he had lost weight and had gotten a little soft.
Then he landed in the fourth preseason game as a full-time participant before securing a spot on Koetter's inactive list.
Koetter shed a little light on Spence yesterday, saying Spence came to talk to him personally last week after learning he wouldn't play against the Eagles. And Koetter noted that getting on the gameday-46 is also about special teams and Spence has an action plan for success within the organization.
On Sunday, Joe watched Spence be engaged on the sidelines with his defensive line teammates, spending chunks of times with Nassib and even obviously coaching him up on pass rush moves.
That was good to see. But it's what we're not seeing or being told that troubles Joe. Yeah, Joe has been around long enough to know that there's much more to the Spence story.
Essentially, Spence is a one step from NFL rock bottom for a 24-year-old second-round pick. Heck, a year ago his teammates were openly projecting him to be the Bucs' next double-digit sack guy.
Joe likes Spence and hopes his arrow starts pointing up in a hurry, otherwise an eventual return of Mitch Unrein could see Spence with a new address.