Mike Evans Says Bucs' Indoor Facility Has Prepped Him For New Orleans
September 3rd, 2018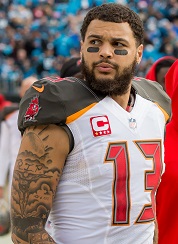 Forget for a minute that Mike Evans only has one 100-yard receiving game in his last 20. He's an excellent receiver, but he has admitted to an aversion to playing in domes.
Evans has had issues picking up the football when there's a roof on the stadium.
The Bucs, if you're unaware, open the season in six short days in the Superdome.
Today, Joe asked Evans if practicing in the Bucs' new indoor facility this summer has helped his dome game. Evans said it's been a huge help.
JoeBucsFan.com: Mike, in past years, you've said that you're not a big fan of the dome and the lights and catching in it. That's not your favorite thing. Do you think practicing indoors here has helped you?

Mike Evans: It does help. It helps a lot. Because when you're outside, and then we have to make that transition to go [indoors] for practice, the second half of practice sometimes, in indoor the depth perceptions changes a lot. So you have to get used to that. And you have to get out there early, get a feel for your cleats and then the lights.
Joe liked that answer. Anything that gives any Buccaneer confidence is a good thing.