Koetter: "First Drive Was The Most Important"
September 9th, 2018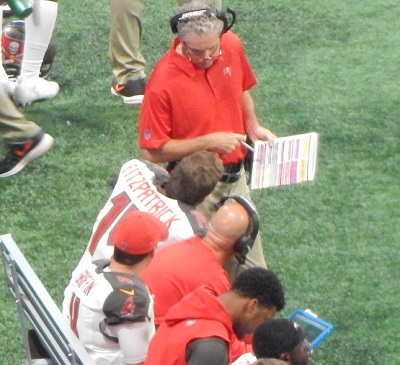 Joe has written many times that the Bucs through last season and entering this season were a mentally fragile team.
Well, it seems Dirk Koetter might have had similar thoughts.
Speaking on the Buccaneers Radio Network after today's 48-40 win in New Orleans, Koetter acknowledged that his Bucs were in a rough spot after New Orleans opened the game with a six-play, 71-yard touchdown drive.
Koetter said the Bucs responding there with their own four-play, 68 yard TD march, capped by a 58-yard home run ball to DeSean Jackson for the score, was the "most important" of the the game.
"That kind of put the calm back in everybody," Koetter said.
Telling and honest call there by Koetter. Heck, Joe legions of his fellow fans felt the same way. That whole mindset by Koetter really speaks to home important this win was for the Bucs. A win like that officially makes last year ancient history for many reasons.
That Bucs haven't had a road win like today since they stormed back against the Chargers in December 2016, a meaningful victory that bumped their record to 7-5.
Joe just hopes Koetter somehow finds the secret sauce in today's win to keep the Bucs from the Week 2 letdown that's plagued them two years in a row after opening day wins. A culture-changing W like today might just do that.