Khalil Mack To The Bears, Bucs' Week 4 Opponent
September 1st, 2018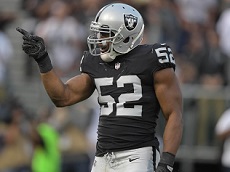 It looks like the Chicago Bears also believe in the close-game theory.
With a 5-11 record last year just like the Bucs, and a 2-6 record in one-score games with the NFL's 10th-ranked defense, the Bears just made a very bold move.
Khalil Mack was traded from the Raiders to Chicago today for multiple draft picks, per ESPN. The 27-year-old Mack hasn't missed a game in his four seasons, has been a double-digit sack man the past three years, and he's got three Pro Bowls and two All-Pro honors to his name.
And now Mack, who was holding out for a fat new contract, will face the Bucs in Week 4 — seemingly just in time (for his sake) after he gets a few games to work off the rust.
Joe has written and said repeatedly that the Bucs must find their way to a 2-2 record through their brutal opening schedule. With a Week 5 bye, a 2-2 record is a great ticket to a strong final eight games.
That road seems to have just gotten a little tougher.
Man, Joe sure hopes Donovan Smith is a fast healer.