Fitzpatrick Commands The Spotlight
September 16th, 2018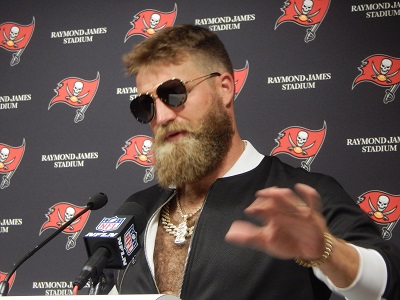 Interesting, fun and a very calculated move by Ryan Fitzpatrick after today's game.
Fitzpatrick entering his postgame news conference showing a ton of chest hair and some of DeSean Jackson's bling, complemented, of course, by the dark shades.
The picture above tells the story, and Fitzpatrick was dropping all kinds of dry humor when asked about his gear.
"Just gameday wear," he said first.
Asked again, Fitzpatrick said, "I think we just have to stay humble and make sure we know how to handle success and those things. So we can't change who we are."
Fun stuff.
But the interesting part here is that Fitzpatrick is no fool. He knows an outfit like that after throwing for four touchdowns and 402 yards against the world champs means that you will be the talk of the nation tonight and Monday, and all over every sports talk show on TV. And you'll be a coveted guest of all those shows, too.
Fitzpatrick, for whatever reason, wants that spotlight on him. He also probably wants it off other members of the team.
There has to be a competitive reason in the mind of Harvard-man and veteran Fitzpatrick. He's too smart for it to be anything else.
Joe's guessing Fitz wants the pressure on his shoulders and off his teammates as they head into a massive Monday Night Football game. Perhaps he feels there's no way he will get too high and overconfident, so he might as well invite the spotlight.
What a fun Bucs season!