"Every Guy From The Bucs Is Going To Be Severely, Severely Tested In Their 1-on-1 Matchups"
September 12th, 2018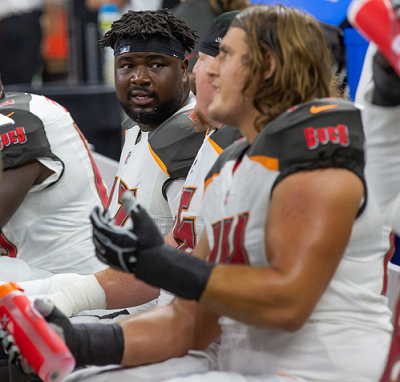 Former NFL offensive linemen Ross Tucker might be the busiest man in NFL media, and that includes a pregame show gig for the Eagles on Philly sports radio.
For those still lost in ecstasy following the Bucs' 48-40 whooping of the Saints on Sunday, Tampa Bay plays the Eagles in four days in Tampa.
Tucker hopped on WDAE-AM 620 yesterday and chattered about how the Eagles game is to wear teams down in the trenches on both sides of the ball. And, Tucker said, their head coach is typically better than yours.
Tucker was stunned how well the Bucs' offensive line played against the Saints in their loud crib, he said, but he says every guy on the Bucs' O-line will get a nasty test this time around.
"Chris Long looked like he still had it to me. Fletcher Cox is a bad man," Tucker said, of the Eagles' opening day performance. ""There's a bunch of different matchups to watch. I think what makes the Eagles so good is unlike the Saints where it's Cam Jordan and a bunch of guys. … I mean all the Eagles are good. Everybody they'll have in on an obvious passing down, Hloti Ngata, Brandon Graham. I mean, all those guys can play. So every guy from the Bucs is going to be severely, severely tested in their 1-on-1 matchups. It's going to be fun to see if they hold up."
Remember, the Eagles are still deep on their D-line. Tucker didn't mention defensive ends Michael Bennett (yes, that Michael Bennett) and their 2017 first-round pick Derek Barnett (6 sacks and two forced fumbles last season, including playoffs).
That group dumped Matt Ryan four times last week and Joe is especially concerned about the right side of the Tampa Bay line.