Dirk Koetter Makes Move To Monken As Playcaller, Cashes In Fast
September 9th, 2018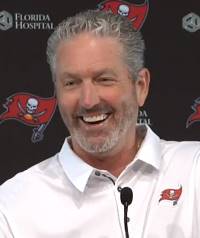 Let's peddle in reality. It was a very gutsy move for Dirk Koetter to turn playcaller duties over to Todd Monken today — gutsy when it comes to his job security.
It would have been a brutal look for Koetter, a career playcaller and a head coach with a losing record, to turn it over to Monken only to have him fail. Then what?
But Koetter manned up and did what he felt was best for the team. And it worked.
The Bucs 0nly had one freakin' punt! Read that again and let it sink in.
Monken's first-quarter call for a Fitz three-yard keeper in the red zone was a thing of beauty. Lotta balls right there. Touchdown!
And the many deep shots were well-timed and, of course, well executed. The last one, Evans 1-on-1 against mighty Saints cornerback Marshon Lattimore, had Joe so fired up. It's about time the Bucs gave Evans more of a shot as a true deep threat. That one went 51 yards for a TD.
Every move is great when it works. And this one sure did. Imagine being the Eagles defensive coordinator tonight?