Charles Sims Works Out For The Patriots
September 12th, 2018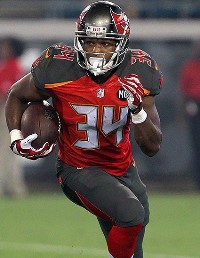 Bill Belicheat must have thought he was watching Dancing With The Stars.
Joe is just kidding (a little) with that reference to recently-waived running back Charles Sims, the Bucs' third-round pick in 2014.
Reports from New England media say Sims was with the Patriots for a workout yesterday.
It would be far too typical and fitting if Sims latched on with the Belicheats and thrived. He'd join a long list of Bucs, from superstars like Aqib Talib and Darrelle Revis, to Jonathan Casillas, Tim Wright, Chris Jones and LeGarrette Blount, among others.
Sims was waived injured by the Bucs after taking a shot to the knee early in the Bucs-Titans preseason game last month. Sims, 27, had been having a poor training camp.