"It Was The One That Got Me Kicked Out Of The Huddle Four Times In A Row"
September 18th, 2018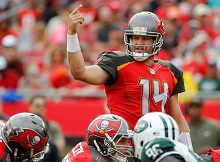 It's all Ryan Fitzpatrick all over the nation, and this interview below Joe recommends.
A very relaxed Fitzpatrick gets into a host of topics including how much he struggled as a 2005 rookie with the Rams under offensive guru/coordinator Mike Martz.
Fitzpatrick may have aced Harvard classes but tells host Dan Patrick that Martz's wordy offense had him getting kicked out of huddles as a struggling fourth-string QB and studying at home with note cards and his wife's help.
Plenty of chatter here about the QB position, as well, and how Fitz does not expect more postgame fashion statements. He gets into how him wearing DeSean Jackson's outfit and jewels originated, that his seventh child is on the way, and more.